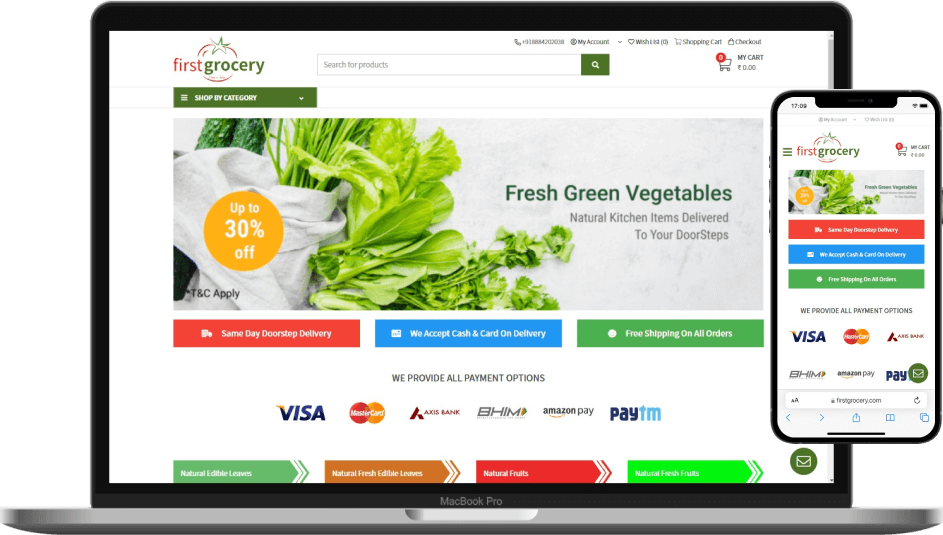 Overview
The client approached us with an ambitious idea to develop a subscription based ecommerce website that would be make grocery delivery to apartments seamless. An unified solution where residents of selected apartments can subscribe for day-to-day grocery items. We were asked to develop a secured and scalable infrastructure, we developed – Backend and Ecommerce Website.
The challenge
Our role was centred around converting the idea into a scalable solution. We looked over every stage of the Grocery Ecommerce Website development project – Designing of the Website, Development of the Ecommerce Functionality, Admin Dashboard, Infrastructure.
Developing a secured, robust and user friendly subscription based grocery delivery website with delivery slot management was challenging for us. The solution was also integrated with alerts & notifications and ways to customize subscription.
Our solution
The design guideline was set with the intent to make day-to-day grocery items more accessible to selected apartment residents. User-friendliness of the app were our top most priority.
We have selected open cart as CMS to full fill client custom requirement, easy product handling and custom membership flow.
It has all been a well-oiled machine for me with Flex Solutions. I'm always happy with the quick responses they give me.
Vijay, First Grocery
Results
Flex designed and developed an end to end subscription-based grocery ecommerce website development for the client. Flex created a reliable, scalable and robust grocery delivery ecommerce website.
The admin system was developed to control the end to end operations and get timely information and reports.
Contact us for OpenCart e-commerce Website Development Services, Today!
Interested in having our team work on your next project? Talk to one of our experts and learn more about how we can get your technology ready for whatever the future has in store.
Get in Touch