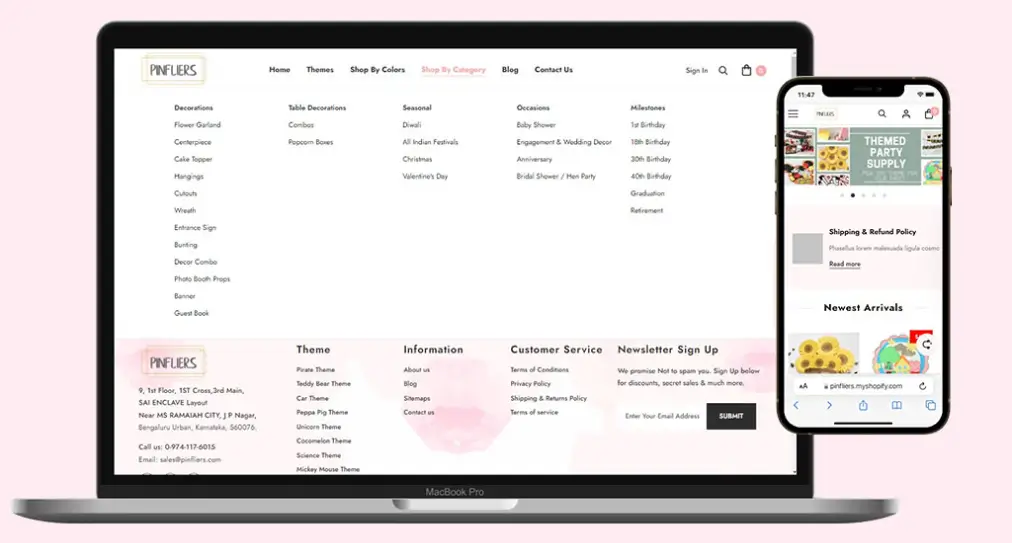 Overview
Pinfliers is a women-led homegrown Indian brand creating playfully designed themed party products that celebrate creativity, handcrafted artisanship & life's little pleasures. At Pinfliers, we passionately believe in creating great quality products that will make throwing a party an effortless experience.
Pinfliers started its journey 10 years as back as an Event management company. While understanding the growing scope of the industry we understood the potential of detailing & quality products in the coming future.
Pinfliers pivoted from event planning to custom paper themed party products where they understood the industry, the process & made some amazing 3D & 2D crafts for themed parties.
The challenge
Pifliers come with us to create a reliable online sales channel that can help them to sell their product trought out india. They required a complete solutiion from scratch with design and development.
Flex done meeting with client via zoom meeting and understand their design requirement and customised product management via CMS.
Pinfliers required simple checout flow with payment integration that user can esily purchase product on site with shipping facilty across india.
Our solution
Pinflier's owner meets our Shopify expert to discuss requirements and we demonstrate previous Shopify work. Once the customer decides to go with Shopify, our team designs three modern, appropriate variants that represent professionalism and authority.
Our first design was approved by Pinflier and then we had a meeting over zoom to convert the design into Shopify. Pinflier requested a customized product flow for the way in which their products were handled.
Using a custom-created product flow and customizing our client's Shopify default product options, we created a system that provides our client with the ability to add, delete and edit products based on the client's specifications.
Flex Solutions has been absolutely fantastic to deal with. We have had some very warm and friendly response from them, and the website they have created for us goes so far as to say that ours is a far better one. The quality of their work is of the highest standard and we are seeing results right now.
Abhi, Pinfliers
Results
An ecommerce platform that combines branding and user experience, with a strong focus on branding. Users can quickly find products according to skin conditions and ingredients, and dedicated product pages help for marketing and promotion. Our website has played a major role in enabling Orveda's direct-to-customer business model.
A knowledge base is created to provide a way to teach customers how unique ingredients used in Orveda products benefit their skincare. Search engine optimization and marketing keywords can also be included in the knowledge base. In order to reduce support calls, the knowledge base serves as a central repository for advice on how to use products and skin care regimes.
Hire us for your next E-COMMERCE project.
Interested in having our team work on your next project? Talk to one of our experts and learn more about how we can get your technology ready for whatever the future has in store.
Get in Touch