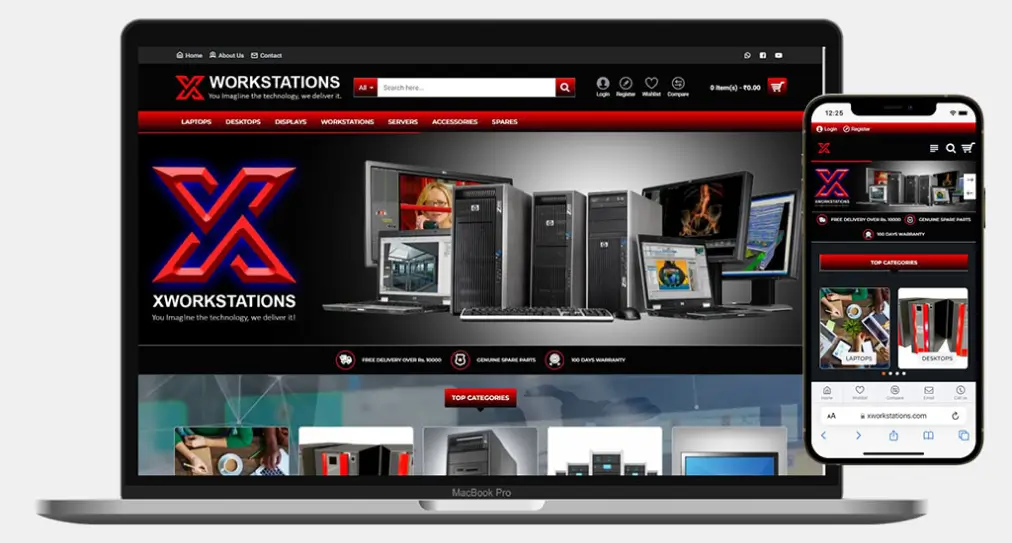 Overview
Our client owns the Refurbished Store direct source for off lease used & refurbished laptops, desktops, workstations, servers, computers & accessories. Xworkstations.com focuses on originality, superiority, and innovation, which has allowed rising most reputable nationally. Xworkstations.com currently configures an average of 200 laptops, workstations per month to enterprise facilities and Servicing the media, manufacturing, product design, architecture, engineering, professionals and studios. Every system sold comes with a 100-day limited warranty.
The customer approached us at flex with immediate requirement for an e-commerce website which would enable him to sell his Laptops easily as well as showcase the varied types of refurbished products.
The challenge
Xworkstation require the website had to be completely secure, and also feature an integrated shipment gateway with a third-party payment option.
The e-commerce website had to allow payment via QR code which generate on run time for each order. Also client wanted product compasrion function that user esily diffrentialte techinical specifications of the diffrent products.
Our solution
To complete the project within the stipulated deadline while ensuring that all the customer requirements we have choose OpenCart as the best solution for the e-commerce website and made customizations as per the client's request.
We have developed a custom run time QR code generator for each checkout by which customer can scan and Pay via all UPI payment apps.
In addition, the skills and experience of Flex Solutions' technology team have been instrumental in helping us achieve our objectives. Their developers always bring their best game to the table and have helped us scale our eCommerce store to the next level.
Pavan, Reverstone Solution
Results
At the end of the project, our customer was completely satisfied with the OpenCart e-commerce solution that we created. by providing the customer with an SEO friendly e-commerce website, we ensured that the website always ranks in the first page of popular search engines
After the launch of the e-commerce website, the customer saw a huge spike in his online sales
Contact us for OpenCart e-commerce Website Development Services, Today!
Interested in having our team work on your next project? Talk to one of our experts and learn more about how we can get your technology ready for whatever the future has in store.
Get in Touch